A clean-burning, lushly fragranced candle designed to enhance the ambiance of any space in the home. Each candle is hand-poured into our kiln-fired ceramic vessels. Experience 60 hours of burn time and industry-leading fragrance throw. 
Featuring:
Soy wax blend to extend burn time
Organic cotton wick
Scents:
Cece: Cedarwood smoke, sweet cardamom, cinnamon, and white leather. Grounded, mysterious, and addictive—our founder's signature.
Cipres Mint: A heady, aromatic blend of invigorating green herbs steeped with sugar and a touch of crisp citrus and earthy woods. Inspired by the unmistakable scent of Moroccan mint tea.
Neroli Leaf: Crisp and bright, a blend of sparkling apple and neroli blossoms, crushed basil leaves, and jasmine petals. Recalls a grove of flowering citrus trees.
Steeped Rose: An unadulterated floral that captures the uplifting character of its namesake bloom. Instantly fill your space with dozens of freshly cut roses—stems, thorns, and all.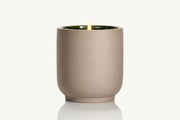 Homecourt Candle - 8 oz